Me and Earl and the Dying Girl
Movie Blurb by Shale
June 27, 2015
What is it about kids with cancer that makes such great movies? Last June it was
The Fault in Our Stars
with the same theme of high school kids dying and it was such an excellent work that I now have it on DVD.
I know what is so great about these heavy-themed movies, besides the emotional moments they elicit. It is a good script and talented young actors who can get thru both the comic and sad scenes and make them believable.The movie opens with a voiceover of Greg Gaines (Thomas Mann) narrating how he gets thru high school by being a shallow friend with everyone and not committing to any friendships. Except for one lifelong friend he's known since Kindergarten, Earl (Ronald Cyler II), whom he does not call a friend but his "co-worker" because they have worked together for years making parodies of old classic and foreign movies with titles such as "2:48 p.m. Cowboy" and "The Janitor of Oz."
Greg and his Co-worker Earl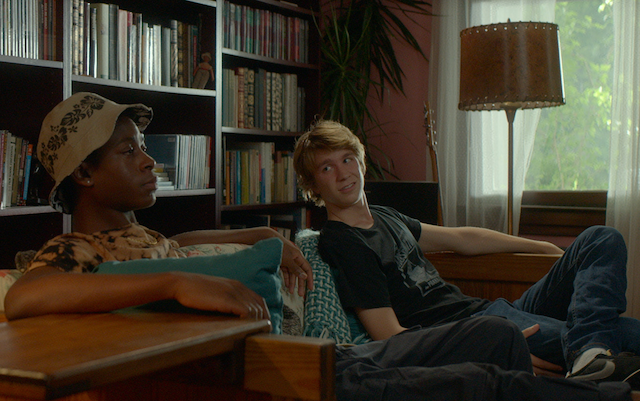 Greg is in his senior year, reluctant to decide on a college out of the huge book his mother has forced on him and is just schlepping thru life when his mother informs him that Rachel (Olivia Cooke) one of his classmates has just been diagnosed with leukemia. As with all his classmates, Greg lets his mother know that he is not a close friend of hers but his mother insists that he go over and try to cheer her up. This is just one of the comedic scenes of an exaggerated moment of teen angst being exacerbated by his mother as he tries to tell her all the obvious, that Rachel, whom he has rarely talked to will see thru his showing up now.
But he goes and has an awkward moment as Rachel also accuses him of the obvious pity motive. But, the good thing about Greg is his honesty when he tells her that he is being forced to visit by his mother. With that she invites him up to her room. OK, you know they become fast friends and eventually, when Rachel finds out about his and Earl's movies, she gets to watch them and include Earl in her life.
Greg & Earl & the Dying Girl
Greg continues his visits with Rachel and a deeper friendship forms. He is there to support her as she goes thru chemo and his sense of humor seems to distract her from the problems at hand, all the while in voiceover narrative he clues the audience that this is not the typical love story and even suggests that Rachel might not even die, despite the title.
Greg & Rachel Closer Friends
But, not all of this movie is the "drama-comedy" but more real drama where both these young actors do scenes of duress and crying moments that are contagious (take tissue).
Rachel Under Stress
I've already mentioned that I liked this movie (It will also be in my DVD collection - right next to The Fault in Our Stars). I am not alone in this opinion. Rotten Tomatoes aggregate critics gave it 82% fresh and 90% of audiences liked it. I highly recommend this movie.
Click here to view the article