Woman in Gold
Movie Blurb by Shale
April 5, 2015
Portrait of Adele Bloch-Bauer by Gustav KlimptThe Woman in Gold
My second movie of the weekend was this drama starring Helen Mirren and Ryan Reynolds. The subject matter is not entirely to my liking but for those two actors, I was in. Especially since I had a promotional pass from my last blood donation and could save $10. (Yep, movie matinees have again gone up from $9.50 to $10).
Based on a true story about Maria Altman (Mirren) discovering after her sister's death in California, some information about a family painting by Gustav Klimpt (Moritz Bleibtreu) of their Aunt Adele Bloch-Bauer made before the war.
Gustav Klimpt Painting Adele's Portrait
Maria asks her close friend, whose relatives she knew in Austria before the war if her son Randol (Reynolds) the lawyer can help her with this.
The issue is getting the family painting back from the prestigious Belvedere gallery in Vienna where it had been for six decades and is considered an Austrian national treasure.
Randol is in financial difficulty and just got a new job with a large law firm and is reluctant to take on the task, but eventually gets interested. He gets to the point where they have to go to Vienna to research Maria's aunt's will. Maria is reluctant to return to the place of such traumatic life history but eventually goes.
In flash backs we see snippets of Maria's family life before the war, her relationship with her Aunt Adele and her marriage to Fredrick Altmann (Max Irons) (Young Maria played by Tatiana Maslany) and their harrowing escape from the Nazis in Austria.
Fredrick & Maria Altmann Escape the Nazis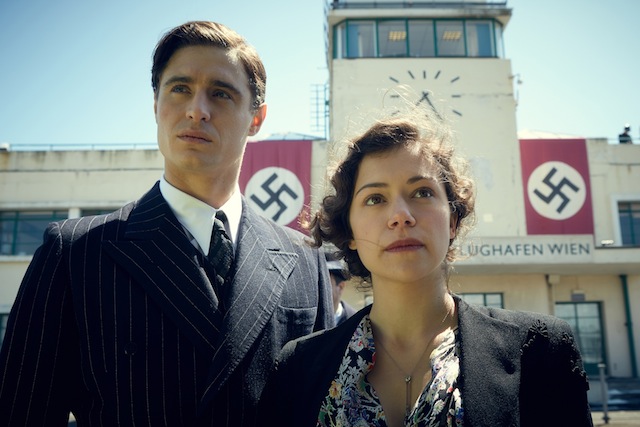 In Vienna they meet Hubertus Czernin Daniel Brühl) an investigative reporter who knows of the current mood in Austria, of the collaboration many ppl had with the Nazis and their reluctance to give up the painting. His inside knowledge is most helpful in developing the case to get the property returned.
The story follows the emotional moments that come over both Maria and Randol as they fight a ten-year legal battle that involves the U.S. Supreme Court deciding whether they can go thru with this international suit, to the final verdict by the Austrian arbitrators.
The movie only got a 49% fresh from aggregate critics on Rotten Tomatoes and their consensus was, " "Woman in Gold benefits from its talented leads, but strong work from Helen Mirren and Ryan Reynolds isn't enough to overpower a disappointingly dull treatment of a fascinating true story." Yeah, I saw that and there were a few slow moments that could have been edited out. But overall I still enjoyed this movie, as did 88% of audiences and the two lead actors carried it. I think this is the most dramatic performance I have seen from Ryan Reynolds, who is best known for action and comedy. (I recently saw him in a DVD of Definitely, Maybe and he carried some dramatic moments in that rom-com as well).
Click here to view the article