Far From the Madding Crowd
Movie Blurb by Shale
May 8, 2015
If the title sounds familiar that is because it is from an 1874 novel by Thomas Hardy. Some of you may have actually read it, but for a guy who has had many written articles published over the years, I read very little outside of research and news articles. However, in researching this, I read a synopsis of the book and the movie plot follows it verbatim. If it weren't for such movies I would be no exposure to classical literature. Oh, and "madding" means "frenzied" (I looked that up) and is sort of a joke considering that the half dozen characters in this story, while not a crowd have some quietly frenzied lives.The setting is rural England a couple hundred miles from London in 1870 where sheepherder Gabriel Oak (Matthias Schoenaerts) becomes enamored of his independent neighbor Bathsheba Everdene (Carey Mulligan). He eventually makes a clumsy marriage proposal to her, which she rebuffs but they remain friends. (I love the way the elements of a formulaic romantic drama can span the centuries).
Gabriel & Bathsheba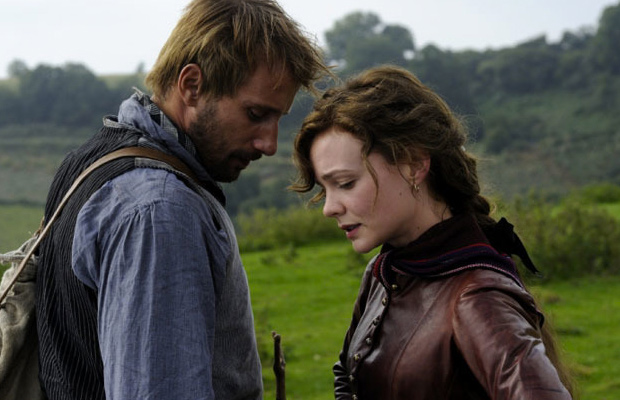 Misfortune befalls Gabriel and he has to leave his ranch but he and Bathsheba will meet again at her estate that she inherits from her uncle, and which she is trying to run at a time when women did not run businesses. She hires Gabriel as her shepherd and it is strictly a work relationship but you can see Gabe still has the hots for her.
Bathsheba & Boldwood
The estate master next to her is the very successful William Boldwood (Michael Sheen) who also notices the available younger Miss Everdene. She teases him with a seductive Valentine card and he takes her intentions seriously so she has another suitor she has to rebuff.
Gabe as a true and honest friend scolds her for toying with Mr. Boldwood and she gets mad and fires him but has to call him back when her sheep get sick. They remain friends.
Enter the dashing and reckless young Sergeant Frank Troy (Tom Sturridge) who excites Miss Everdene's hidden Victorian passions and now you see the making of a very complicated situation not too far from madding.
First Kiss
I enjoyed this movie and it got good reception from the real critics as well.
Click here to view the article