Boyhood
Movie Blurb by Shale
August 8, 2014
I saw what would be considered an Art Film today. A bold experiment in movie making
by Richard Linklater, who wrote, co-produced and directed it. Oh, and he had his daughter act in it for 12 years. Yes, this is the 12-year movie shot from 2002 to 2014 using the same actors, both children and adults for the main characters.
The boy, our main character is
Mason (Ellar Coltrane) a six-year-old first grader who seems a bit of a misfit as he explains to his mother Olivia (Patricia Arquette) why he didn't turn in his homework. Mason has an older sister, Samantha (Lorelei Linklater) who is a rebellious, smart-mouthed child who taunts him.
Mom reads to her kids in bed
The setting is small town Texas and mom has decided to move back to Houston and continue her education where her mother can help out. This is where the kids' dad Mason Sr. (
Ethan Hawke)
shows up taking them on a weekend visit. He had been away in Alaska and the kids are happy to see him. He seems to be a carefree, irresponsible guy who drives a really beautiful GTO and dreams of getting a band together. The kids love him, but grandma, where he picks them up seems a bit uptight around him. She must know the history.
Fun with Dad
The setting is current as dad references socio political things like Bush and the Iraq war and that we should not have been in it. He is obviously one of the half-dozen liberals in Texas.
There is no timeline and we leave the kids in one scene and notice they have aged a little, maybe a year or so in another. The adults age as well (except for Ethan Hawke – 12 years made very little impact on him).
This movie is a 12-year slice of life, which covers most of Mason's boyhood until he graduates and then heads off to college.
Graduation
The movie shows the mundane life most of us have lived while trying to make our way thru it. The struggles Olivia has with being a single mother and the struggles she has with a couple of bad marriages. The impact of those split ups on the kids and dealing with stepfathers & step-siblings and moving to new schools and friends.
IDK how much appeal this movie will have on most ppl. I liked it and it was well-received by almost all the aggregate critics on Rottentomatoes and 92% of audiences. It was an amazing gamble that the child shot in the opening scenes would actually become an actor by the time of his late teens, and also still look appealing as he matures. Ellar Coltrane turns 20 later this month and we saw him go thru the zit stage of life. I hope to see him in future movies – he shows promise.
Mason Jr. Off to College
Here are some more pix of the character as he changed in the course of this movie.
Ellar Coltrane in 12-year Movie
Ethan Hawke Aged a Little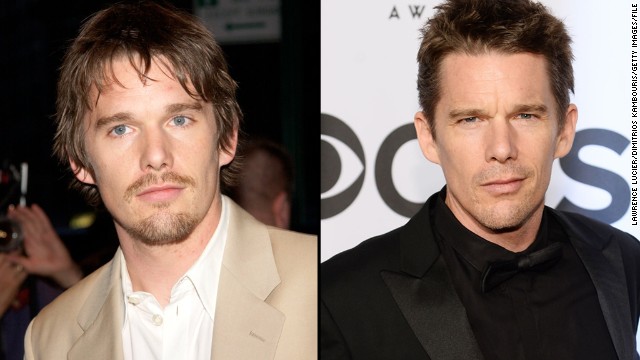 Ellar Coltrane Laying in grass - 6-year-old
Ellar Coltrane Laying in Grass - Teen
Click here to view the article